This CEILING DOCTOR Web Site is operated by Rhonco Enterprises Ltd. - Copyright © 2007 Rhonco Enterprises Ltd.
The cleaning and restoration specialists.
End results may vary depending on surface type, age, and current condition. For the best possible results call Ceiling Doctor.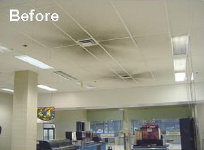 Like the Sistine Chapel, your ceiling was not actually intended to be a masterpiece of chiaroscuro, with dark and somber tones, that it may now seem to be.

With Ceiling Doctor's exclusive cleaning process you can restore a view of your ceiling not seen since the last workman stepped down from his scaffold, perhaps many years ago.

Rediscover and enjoy the brilliance, colour, and expression of optimism that was the original intent of your acoustic ceiling ... a Renaissance revival of your own. Please contact us.
Rebirth of an Acoustic Ceiling
Sources: MICHELANGO The Sistine Chapel Restored, by Marcia Hall, and
Wikipedia
After cleaning, the ceiling frescos of the "new" Michelangelo are "of high contrast and brilliant colour ... joyous and celebratory, in keeping with the spirit of the Renaissance and the sense of hope and possibility that flourished in Rome," at the time. The cleaning has given us a fresh and surprising Michelangelo, revealing the original intent of his work. In fact, the view today is far closer to what Michelangelo actually saw when he climbed down from his scaffolding for the last time in October 1512.
Before the cleaning of the Sistine Chapel ceiling frescos, the "old" Michelangelo was considered by some art historians to be, as a master of chiaroscuro, exercising the belief that "bright colour was vulgar and that serious statements could only be made in somber tones." Others simply criticized Michelangelo for being a poor colourist with a gloomy palette. However, improper restoration attempts over the centuries actually helped to create these effects. Layers of a varnish-like glue applied with the intention of brightening and restoring the original colours instead contributed to premature resoiling and darkening of the ceiling.
The decision to clean the ceiling was made in the late 1970's by the Vatican, when a cleaning agent was discovered that could remove not only grime, but also glue which had proved impervious in previous cleanings. A test revealed colour of a brilliance quite unexpected.The cleaning which began in 1980, took almost three times as long as Michelangelo's original effort to complete the fresco.

The Sistine Chapel Ceiling Restored
In 1508 Pope Julius II commissioned the painting of the Sistine Chapel ceiling. Michelangelo worked tirelessly for four years, often lying on his back on scaffolding only a few feet from the surface of the ceiling. Eventually filling over 650 square yards of surface with 343 figures, the resulting masterpiece chronicles the biblical history of humanity from the Creation to Noah. Michelangelo Buonarroti was 37 years old when his superb fresco was unveiled in 1512.
Rebirth of a Renaissance Ceiling
CEILING DOCTOR a Division of Rhonco Enterprises Ltd.

®